Nestlé Waters emoji water bottles are getting a revamp
Nestlé Waters are adding new emoji characters to their range of children friendly emoji water bottles.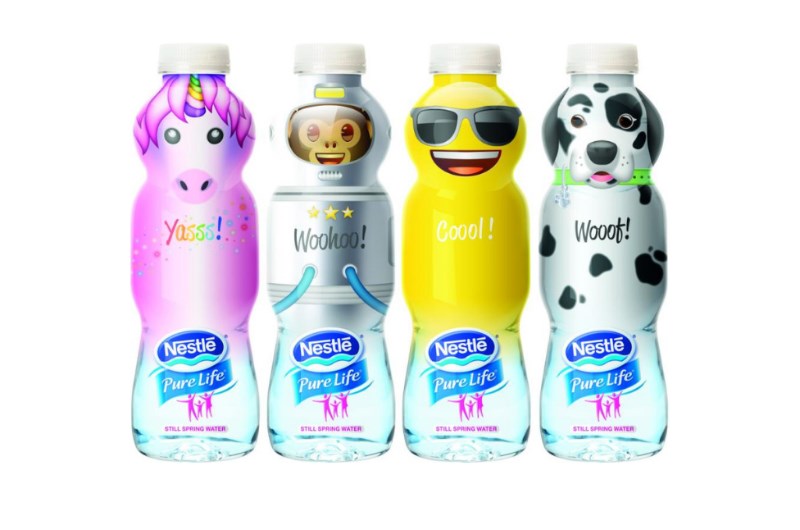 Nestlé Waters are updating their emoji water bottle designs to include more emoji characters.
The sunglasses emoji, space monkey, unicorn and dalmatian emojis all star as the new faces of the Nestlé Pure Life water range. One example design shows the brightly coloured unicorn emoji with the word "yasss!" printed on the outside.
These characters join existing emoji water bottle designs tears of joy face, cat emoji and the kissing face emoji.
The emoji water bottles were created to inspire kids to drink more water. Specifically, the bottles are aimed at children aged 6+. It's estimated that 65% of children aged between 5 and 16 do not drink enough water.
Marie-Laure Danican, local brands lead at Nestlé Waters said:
"We are looking to continue the momentum of the range with a new selection of emoji characters, giving children new, exciting options when selecting their favourite Water Buddy."
She later stated that bottled water continues to dominate the £7.3 billion soft drinks category. The new emoji water bottle will come in a 330ml size and will cost 50p when they hit store shelves in the near future.
Emojis have historically been used to tap into younger markets. Scientists in America recently developed a new product rating scale based on emojis. In testing, the emoji product rating system outperformed the traditional methods for measuring children's feelings.
Emoji News Previews & Tips