Lottery winner wears winking face emoji mask whilst collecting winnings
A Jamaican woman collected her Lottery winnings wearing a winking face emoji mask to protect her identity.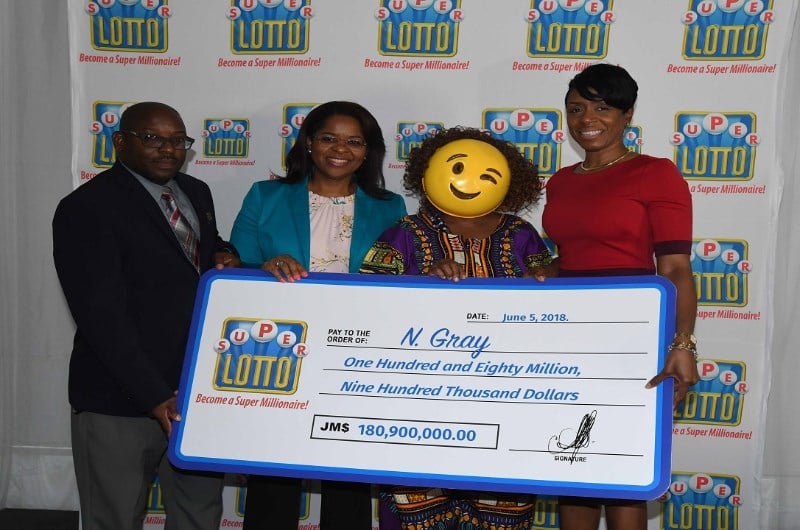 A Lottery winner from Jamaica collected her winnings whilst covering her face with a winking face emoji mask.
Named on the $189 million Jamaican dollars cheque as N. Gray, the lucky winner scooped the Super Lotto jackpot, shielding her identity with the help of the mask and loose fitting clothing.
Originally reported in the Jamaica Star, rampant crime in the country is forcing lottery winners or those who have won large sums of money to protect their identities.
Simone Clarke-Cooper, a senior executive figure at Supreme Ventures Limited who operate the Super Lotto draw, commented: "Unfortunately, Jamaica is not like other markets. In other markets, they don't necessarily do it, but here I think they opt to do it to keep themselves safe."
She added further: "We are not going to tell them not to do that because their safety is of paramount importance to us as well,"
The Supreme Ventures Limited spokesperson did stress that the winners were only advised to use a disguise, with some winners actually suggesting the idea and creating their own disguises.
Also speaking to the Jamaican Star, Fitz Jackson speaking on behalf of National Security commented that winners also try to protect themselves from requests from family and friends.
Jamaica, a popular tourist destination and holiday spot, has recently seen a wave of violent crime tear through the Caribbean island.
On 18 March 2018, the Jamaican government declared an additional state of emergency around Spanish Town bringing in military support to aid the islands police force. This state of emergency was recently extended until the beginning of July.
The highest levels of crime revolve around the capital, Kingston and Montego Bay; gang violence and shootings are reported to be common.
Emoji News Previews & Tips