Interracial couple emojis proposed: May extend to families in future
A new proposal seeks to add 55 new ZWJ sequences to represent interracial couples.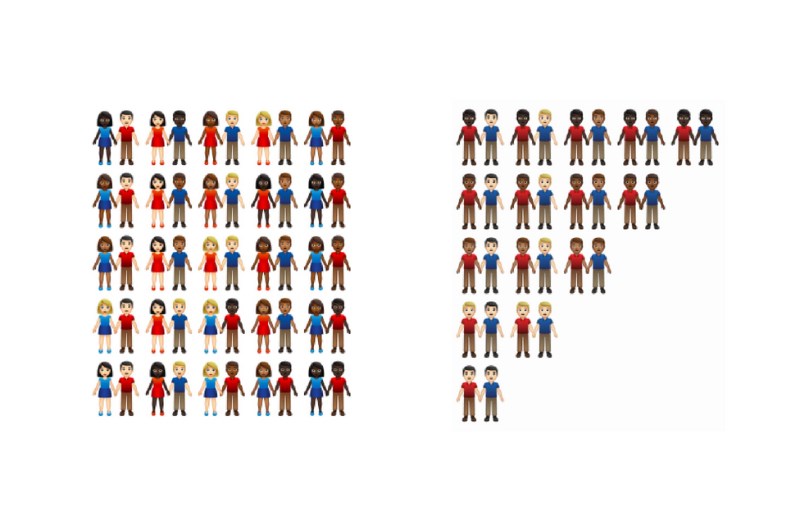 A new proposal to the Unicode Consortium could see the addition of interracial couple emojis.
In the 25 page document, 55 new ZWJ sequences are proposed, which would add new interracial couple variations to the Man and Woman Holding Hands, the Two Men Holding Hands and finally the Two Woman Holding Hands emojis.
The new proposal was submitted by the team at Emojination, who have had multiple successful emojis added to the official emoji standard.
The new couple symbols would significantly bolster the existing emoji selection, with 55 potential inter-skintone combinations for each of the couple emojis.
As the proposal points out, interracial relationships are becoming significantly more common, with 17 percent of new marriages and 20 percent of relationships in the US being predominantly interracial.
Furthermore, the proposal suggests that even more interracial emojis could be added, which could cover the family emojis.
Interracial emojis however do exist in some form; in 2016, Microsoft added interracial family sequences in a Windows 10 update, which resulted in over 52,000 new family combinations.
In terms of demand, social media sees numerous requests for interracial couple emojis, with over 300,000 tags on Instagram for terms such as interracial couple and dedicated social media accounts dedicated to interracial relationships.
On Youtube, the term interracial boasts over 400,000 search results - and the document also points out a number of high profile Youtube stars who are also in interracial relationships.
One potential sticking point for the proposed ZWJ sequences is how so many combinations would work in terms of user interface, but the document does suggest several solutions for this problem.
Diversity in emoji is a clear concern for the Unicode Consortium, who in the latest emoji update have added a range of hairstyles for emoji users to better represent themselves.
Emoji News Previews & Tips