Disguised face emoji aims to bring the comedy
A new disguised face emoji symbol could inject some comedy into the existing emoji lineup.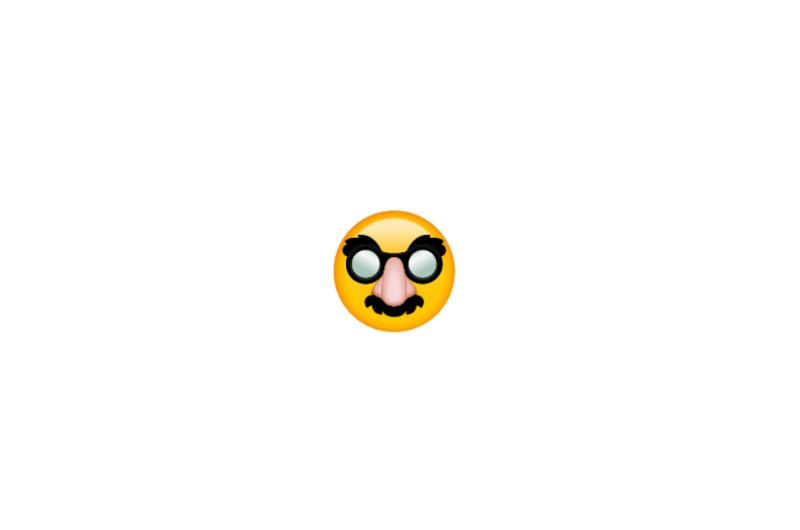 A new proposal for a disguised face emoji has been submitted to the Unicode Consortium.
Authored by Mo Hy, the proposal aims to add an emoji for the popular comedic novelty item.
The design shows a round emoji face complete with bushy eyebrows, moustache and large pink nose. The design is clearly inspired by masks made popular by American comedian Groucho Marx.
It's expected that the new symbol will be used mostly for comedic effect. This includes highlighting dry jokes (also known as dad joke). The new symbol could also be used to show the need for a disguise.
The document also illustrates several new sequencing options. For example, the disguised face emoji together with the shocked and crying face could describe an embarrassing situation. Or a disguised face combined with a tears of joy face could describe a comedic situation.
Data provided by the proposal shows that the usage could be demonstrably high. Using Google Trends, the author shows that the term drooling face (which is already an emoji) shares identical volumes with the term disguised face.
The terms "nose + glasses + disguise" is also compared to existing emoji clown face. Google Trends shows that the former search query is more popular. The proposal also provides evidence of social media requests for the disguised face emoji.
If successful, the emoji could be added for contention in Emoji 13.0 due in 2020. Unicode have already started planning for this release by recently adding three emojis to the draft candidate list.
The next major emoji release, Emoji 12.0, is due in 2019. Some major vendors are yet to upgrade to Emoji 11.0 however, Apple being one of the most notable companies not to have the latest standard on their devices.
Emoji News Previews & Tips